DREAMS WITH SHARP TEETH
A Film about Harlan Ellison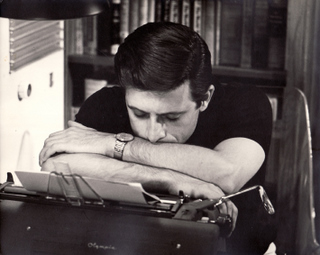 "Mr. Ellison's written achievement largely takes second stage to his volcanic verbal attitude, of which there's more than enough to overflow an entire outlandish mini-series."
--
Nathan Lee, New York Times
"In between all the writing, he feuded with Frank Sinatra, sang alongside Barbra Streisand in a Village cafe, and marched with Dr. Martin Luther King Jr. If that's not a life worthy of a film, we're not sure what is"
-
New York Magazine
"...imagine watching an episode of Jerry Springer with really smart, literate people. That's what this movie feels like..."
-
Katherine Monk, Canwest News Service
"In words often spiked with arsenic or at least acidity, writer Ellison talks more eloquently than most writers write. I know of few movies of any kind that are better at showing how entertaining cranky rants (against mostly deserving targets) can be."
--
USA Today
Written and directed by Erik Nelson.
Produced by Nelson and Randall M. Boyd. Edited by Boyd. Camera by Wes Dorman. Music by Richard Thompson.
People in the film: Harlan Ellison, Robin Williams, Neil Gaiman, Dan Simmons, Peter David, Ron Moore, Josh Olson, Tom Snyder, Susan Ellison and others.
•
Official Website
by Creative Differences - (Trailer, Outtakes, Featurette)
•
Trailer
on YouTube
•
Pay the Writer
|
On God
- Clips from the film released on YouTube
The film premiered in the US and Europe in June 2008.

DVD

was released May 26, 2009.
DeepDiscount.com
has the DVD for $16.71 incl. US shipping. Also available at
iTunes
,
Netflix
and as Video on Demand from
Amazon
.
IMDB
|
David Loftus
on the world premiere of the original cut for Documentary Films.net
|
Moriarty
also on the original cut for Ain't It Cool News
|
Paul Martin
for twitch at SWSX festival
|
Jette Kernion
and
Nick Schager
for Cinematical
|
Ethan Alter
for Film Journal
|
Leo Goldsmith
for indieWIRE
|
Paul Brenner
for Filmcritic.com
|
Noel Murray
for A.V. Club
|
Matthew Sorrento
for identitytheory.com
|
Ken Fox
for TV Guide
|
Steve Dollar
for The New York Sun
|
John P. McCarthy
for Boxoffice
|
Gordon Van Gelder
for SF Site
| DVD:
Roy Frumkes
for Films in Review
|
Mark Tiedemann
|
Katarina Gligorijevic
on exclaim.ca
|
Jim Thomas
for DVD Verdict
|
Please let me know if something important is missing or links are broken
|
Christopher Long
for DVDTown.com
|
James Enge
for Black Gate
|
Jamie S. Rich
for DVD Talk (also talks about the film in this
interview
)
|
Bill Gibron
for PopMatters
|
Chosen as one of the ten best DVDs of 2009 by
Bill Gibron
at PopMatters and
Stuart Galbraith IV
at DVD Beaver
|
Elizabeth Bachner
for Film-Forward.com -
"The review closest to my heart, about the film I tried to make"
(Erik Nelson)
Interviews with Erik
:
eFilmCritic
|
Variety
(video)
|
hotDOCS
|
IMDB-Filmography:
here
|
Interviews with Harlan
:
Billboard
(video)
|
Studio 360
(audio)
|
A.V. Club
|
WCPN Cleveland Sep.2007
(audio)
|
Salon
(mp3 audio)
|
The last one used to be a video interview - I think they removed the video, unless you can find it
|
Harlan's statement about the film and the reviews
:
HARLAN ELLISON - Friday, June 6 2008 11:11:47 - wrote:Mark this: I think it is a wonderful film. I love Richard Thompson's dear music, I love Randy Boyd's adroit (and seemingly endless) editing, I nod my head with pleasure at Doug Martin's sly graphics. I laugh every time I see DREAMS, laugh big-time. I think the subject of the film is a funny weird old guy, and he makes me laugh. I tear up every time I see the part of the film in which Louis LaVerne "Doc" Ellison appears. I tear up big-time. I like this film. Mr. Nelson has given me an extraordinary gift; one I could never have dreamed would become an actuality. But...

The reviews are not about me.

They are reviewing, commenting on, surmising narrowly or broadly or wholly incorrrectly or dead-on accurately about only two things:

1) A film BY Erik Nelson. That is to say, a film of Erik Nelson's interpretation of the subject, laid out with carefully excluded or included instants of an ongoing story. It is HIS view of the subject; it is the film HE chose to tell.

and, more importantly,

2) It is about a mythical creature named "Harlan Ellison."
That creature may or may not, in reality, actually, exist. And even if it does, it is a cobbled-up creature of published snippets, odd moments of circumstantial evidence, rumors, gossip, tall and short tales, and the Aesopian morals each tale imparts.

It is not about me. So I am content with ALL the reviews, each and every. I cannot help but snicker at some of the impertinent and purposely cobbled-up whole-cloth "carps." (Such as "Why doesn't Susan Ellison have more to say, more onscreen time, if she's so important in his life?" Well, how about "She doesn't like being on camera, moron!" or "Why didn't Nelson go see his sister, even if Ellison didn't want him to Go There?" Well, how about she's 82 years old, not at all well, and what the hell would Nelson have asked a woman whose memory is shot?" And etcetera.)

My answer to the questions you've asked, and that others may ask of you, here or elsewhere, is simple. It is an Erik Nelson film about a creature named Harlan Ellison they are reviewing.

I have no dog in that hunt. So I'm down with it, I'm cool with it, ALL of it.

Yr. Pal, Harlan
Note
: Please keep the discussion mostly film-related. The opening post by rich was in reaction to a
review
by Daniel Oppenheimer. Harlan's reaction to the review had been:
Dear "Clipping Service": Kindly spare me; do not, please, ever again put up the likes of the Oppenheimer piece. If I want to sample Jewish anti-Semitism, I can always read Celine.
(Aug 21, 2008)
-- Moderator out --
___________________
DREAMS WITH SHARP TEETH, or "The Irritable Man"
Daniel Oppenheimer wrote, I thought, a pretty good piece on Ellison, prompted by Oppenheimer's viewing of Dreams with Sharp Teeth. The link was posted on the Pavvy, but Ellison himself had unkind words to say about the article without, I'm assuming, ever actually reading it.
But I thought it was a good article
, and I think Oppenheimer's comments in the comments section were exactly right:
DANIEL OPPENHEIMER: It's funny, with Ellison, dealing with the good vs. great thing. If he weren't so obsessed with his own literary stature, I wouldn't have found it necessary to point out so often, in the piece, that he's not a writer for the ages. At the same time, if he weren't such a self-promoter, no one would have made a documentary about him, and he wouldn't have the Neil Gaimans of the world overselling his talent, and I probably wouldn't have written an article about him.
One could argue about "a writer for the ages", but I think the main point is valid: that Ellison is such a self-promoter.
David Loftus brings up a question, though, and one I'm surprised to actually see when discussing Ellison and his work.
David Loftus wrote:How does Ellison's character overshadow his stories if you have to search -- actively -- for information about his antics, as well as for fairly isolated references to Jews and Judaism in his writing?
Stephen King said it was hard to separate Ellison from his work in Danse Macabre, and I think it's fairly obvious that Ellison's character does overshadow his work. At times. And maybe that's the caveat. But for a man who routinely goads and prods and offends just to offend, Ellison's character DOES overshadow his work, especially when the work is few and far between lately.
Harlan Ellison has made no secret that he is performing, and his stories and his essays, and his introductions and afterwords are testament to a man that wants the reader to know about Ellison the Writer and Man, as opposed to just letting the story speak for itself. Look at some of the threads in the SPIDER commentaries, when Ellison was making his own judgements on the criticisms. He WANTS to be involved, not just letting his own work speak for itself, but he wants to needs to let the reader know that there was someone behind that typewriter, that the words didn't just magically appear. He wants YOU to understand what he was doing, where he was emotionally/physically at the time, and why you, the reader, were right or wrong about a particular story.
David, you're more aware, professionally and personally, of Ellison's work than anyone on these boards so to see the question from you struck me as a defense of something that doesn't need to be defended: Ellison himself, in numerous intros to his work, indicates that he does the intros as a way to let his readers know about him. And it's precisely those "talks" that have so galvanized his readers, more so than his fiction, I think.